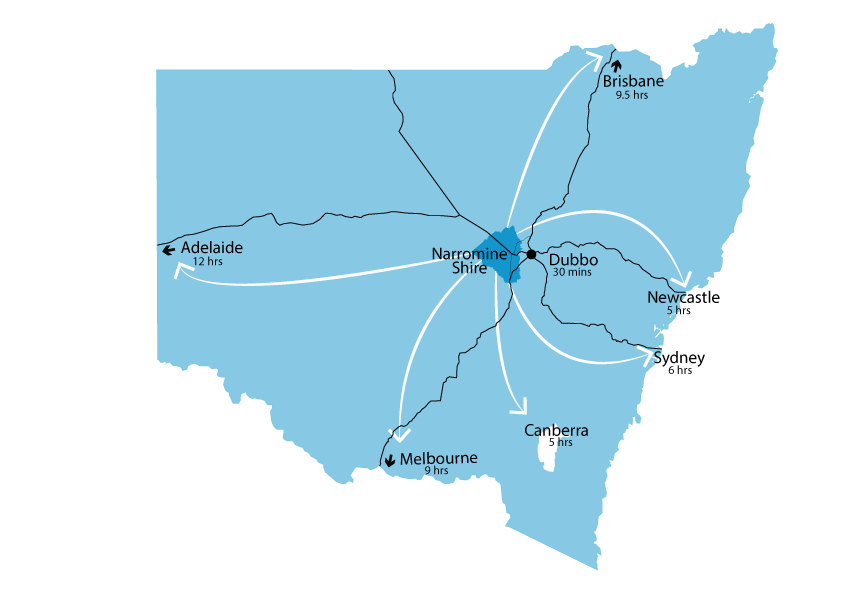 Road
Narromine Region is located on the Mitchell Highway just 450km west of Sydney. Tomingley, located on the Newell Highway is the southern gateway to the Region offering a scenic route between Tomingley and Eumungerie along the Newell Highway. Narromine Region is half way between Melbourne and Brisbane and is the ideal stop over on your adventure.
Air
With zero landing fees, why not fly into Narromine. The Narromine Aerodrome is well equipped with fuel and meals with the Narromine Aero Club opening every Friday evening. With a caravan park next door (with a pool), enjoy the luxury of private cabins, powered or unpowered camping sites during your stay.
Rail + bus
Sit back and relax as the daily XPT transports you from Sydney to Dubbo. There are connecting daily bus commutes from Dubbo to Narromine and Trangie.
Getting around while you are here
A taxi service is operational in Narromine as well as daily bus connections to and from Dubbo. Click here for more information
Distances
| | To Narromine | To Trangie | To Tomingley | |
| --- | --- | --- | --- | --- |
| Sydney | 430 km | 466 km | 393 km | via Mitchell Highway |
| Newcastle | 420 km | 453 km | 433 km | via Golden Highway |
| Canberra | 394 km | 430 km | 358 km | via Newell Highway and B81 |
| Brisbane | 874 km | 882 km | 894 km | via Newell Highway |
| Melbourne | 809 km | 845 km | 773 km | via Newell Highway |