Farm First Aid
Tuesday, 10 Mar 2020 - Tuesday, 10 Mar 2020
8:30am - 4:30pm
Trangie Bowling Club
Mark McMullen
0428922617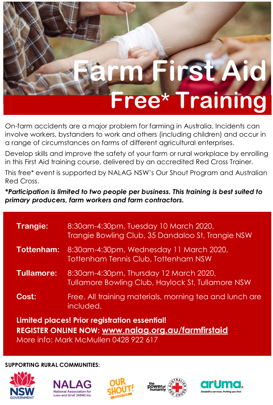 On-farm accidents are a major problem for farming in Australia. Incidents can involve workers, bystanders to work and others (including children) and occur in a range of circumstances on farms of different agricultural enterprises.
Develop skills and improve the safety of your farm or rural workplace by enrolling in this First Aid training course, delivered by an accredited Red Cross Trainer.
This free* event is supported by NALAG NSW's Our Shout Program and Australian Red Cross.
*Participation is limited to two people per business. This training is best suited to primary producers, farm workers and farm contractors.